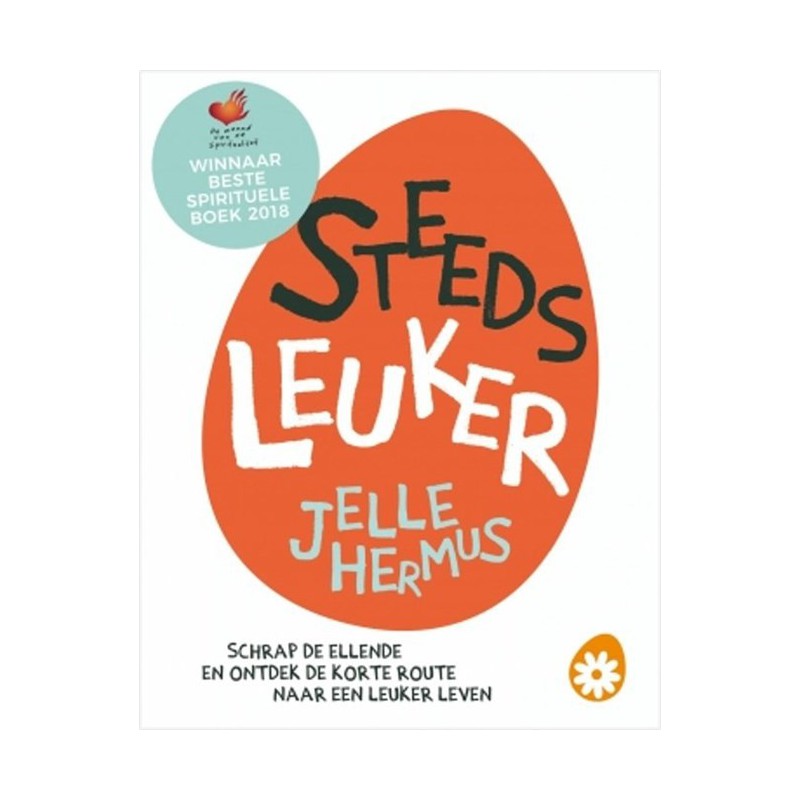  
Steeds leuker
Je leven steeds leuker maken, met steeds minder moeite. Dat is waar 'Steeds leuker' om draait. Want eindeloos ploeteren is prima, maar op de bank zitten met een goed boek, een kop thee en een glimlach op je snoet is ook fijn. In dit boek laat Jelle Hermus zien hoe je - door het zetten van de juiste kleine stappen - je leven snel in een opwaartse spiraal kunt brengen. BESTE SPIRITUELE BOEK 2018 
We will ship your order within 1-2 working days 
Order safely and reliably. We carry the Certificaat Thuiswinkel Waarborg.
Is the product information on this page not in English? We are in the process of translating all our products. Thank you for your understanding. Do you wish to receive more information on a specific product? Please contact us.
BESTE SPIRITUELE BOEK 2018 

Je leven steeds leuker maken, met steeds minder moeite. Dat is waar 'Steeds leuker' om draait. Want eindeloos ploeteren is prima, maar op de bank zitten met een goed boek, een kop thee en een glimlach op je snoet is ook fijn.

In dit praktische boek presenteert Jelle Hermus de korte route naar een leuker leven. Hij laat zien hoe je - door het zetten van de juiste kleine stappen - je leven snel in een opwaartse spiraal kunt brengen.

Want we weten vaak niet precies wat we willen doen met ons leven, maar we weten wél hoe we ons willen voelen: vrijer, blijer en meer voldaan. Als je steeds kleine stappen blijft zetten in de juiste richting, kom je vanzelf waar je wilt zijn.

Jelle laat zien hoe je je leven leuker en leuker maakt, en tegelijkertijd je omgeving kunt verrijken. Met een liefdevolle aanpak en de nodige humor. Want alles wordt makkelijker als we het leven niet zo serieus nemen.

Een leuker leven bouwen is makkelijker dan je denkt. 'Steeds leuker' is je handboek naar een leven vol vrijheid, blijheid en betekenis. Zonder de ballast en de gekkigheid.

Jelle Hermus is oprichter van online platform soChicken.nl - waar maandelijks ruim 600.000 mensen komen broeden op een leuker leven. Zijn wekelijkse nieuwsbrief wordt gelezen door meer 140.000 mensen en zijn populaire Broednest cursussen hebben duizenden mensen geholpen om het leven stap voor stap steeds leuker te maken.
Auteur: Jelle Hermus
isbn 9789021567068
paperback
288 pagina's
november 2017
Data sheet
Author

Jelle Hermus

Hardcover/Paperback:

Paperback

Language

Nederlands
Customers who bought this product also bought: